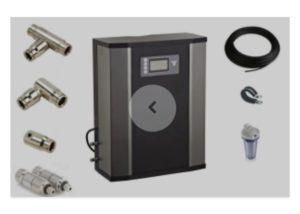 Accessories included
Nebulizer KIT Home
15 m Nylon tube. Working pressure 70 Bar, burst pressure is 140 Bar.
10 quick fit Connectors, very easy installation.
anti Fog nozzles 10 ounce, orifice of 0.03 mm, the mist is very thin.
1 Small impurities from water filter.
APPLICATIONS
Interior
Mini greenhouses, vegetable Stands, restaurants, bars.
Outdoor balconies, Patios, terraces, Events, swimming pools, gardens, Jango
1 15W40 Oil to pump.
ADVANTAGES
Pressure machine of low noise and reduced dimensions.
Modern, attractive design, easy and quick to install.
Complete system with all accessories included. Comes with serial Timer to work
Alternately. Has included a pressure controller for power control fogging.
APPLICATIONS
Interior
Mini greenhouses, vegetable Stands, restaurants, bars.
Exterior
Outdoor balconies, Patios, terraces, Events, swimming pools, gardens, Jango